blindfold wrote:
@theus: I'm really enjoying 1Q84 so far. I'm almost done with the first part, it's way more subtle than his other works I've read but I guess that's about to change soon. The characters keep evolving steadily as you find out more and more details and the several strings of the storyline begin to emerge.
i think i'm going to check this out soon. i've not read one of his books in a while but i'm kind of in the mood now.
anyway,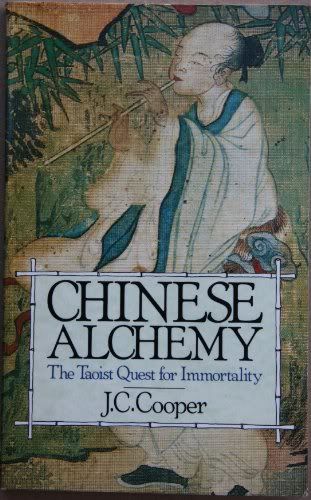 Probably not the most accurate book, but entertaining.
J. C. Cooper wrote:
As drugs of immortality, the elixir and medicines mentioned are mostly unidentifiable, but those that can be recognised often contained highly toxic and dangerous ingredients, mineral and plants – such as arsenic, mercury, lead, gold, digitalis, aconite and hemp, which, taken in small doses, might prove stimulating at first, have curative properties, give psychedelic experiences. As Ko Hung says: 'You can even make everyone see mountains moving and trees transporting themselves, although no actual movement takes place.' If taken in large doses these ingredients would confer immortality by translation to the next world, either as intended, or quicker than was bargained for if the properties were not understood. Symptoms of poisoning were often hailed as signs that the elixir was working and 'dispelling latent disorders.' There was also a widespread belief, not confined to the East or to alchemists, that the more unpleasant the medicine the better the effect. 'After taking the elixir, if your face and body itch as though insects were crawling over them, if your hands and feet swell with dropsy, if you cannot stand the smell of food and bring it up when you eat it, if you feel sick, if your limbs are weak, if you are prone to diarrhoea or vomiting, or if you have stomach aches, do not be disturbed, these are merely proofs that the elixir is succeeding in driving out the illness.'

...

In the search for the elixir it was inevitable that the experiments undertaken by the Taoist alchemist would lead to important discoveries concerning the properties and effects of the minerals and plants they used. As a consequence, they amassed a considerable body of medical lore, as well as laying the foundations of the sciences of chemistry, metallurgy, astronomy, botany, herbalism, zoology and, incidentally, the making of perfumes. Other by-products were the acquisition of great skills in the working of metals for both decorative and practical use; the spectacular use of colour in dyeing; and superb ceramic glazing techniques. …One might add that gunpowder was also discovered, though it was not used for aggression or destruction but for entertainment and fireworks.

...

There is evidence that heart transplants were carried out: Ko Hung states that he had seen doctors graft on a severed finger and that trepanning took place, the cranium being opened 'to re-arrange the brain'; he said he had seen this done.