The greater Boston area has a really killer network of libraries. I checked availability for that gender book that theus mentioned a few pages ago, and they had it at the library outside Harvard. By the time I got over there three hours later, though, it had been checked out.
Instead I grabbed this --
Quote:
"Deftly marshaling a vast array of historical and demographic research, Neil Postman, author of Technopoly, suggests that childhood is a relatively recent invention, which came into being as the new medium of print imposed divisions between children and adults. But now these divisions are eroding under the barrage of television, which turns the adult secrets of sex and violence into poprular entertainment and pitches both news and advertising at the intellectual level of ten-year-olds."
And before that, I sat down and read this in one sitting, on Monday: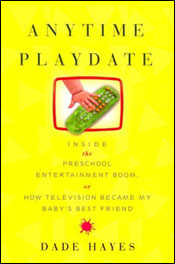 Highly recommended. The author talks about the $21b "infant to preschooler" entertainment industry, basically describing the history of using television as a device to market toys to infants and their (increasingly helpless) parents. It's not an angry anti-TV diatribe. Hayes gives cautious weight to all sides of the "how much TV should kids watch?" debate (and points out the foolishness of making it a dichotomous issue), and devotes a lot of the book to exploring the supply side -- i.e. how shows are developed, designed, and marketed, from past to present.